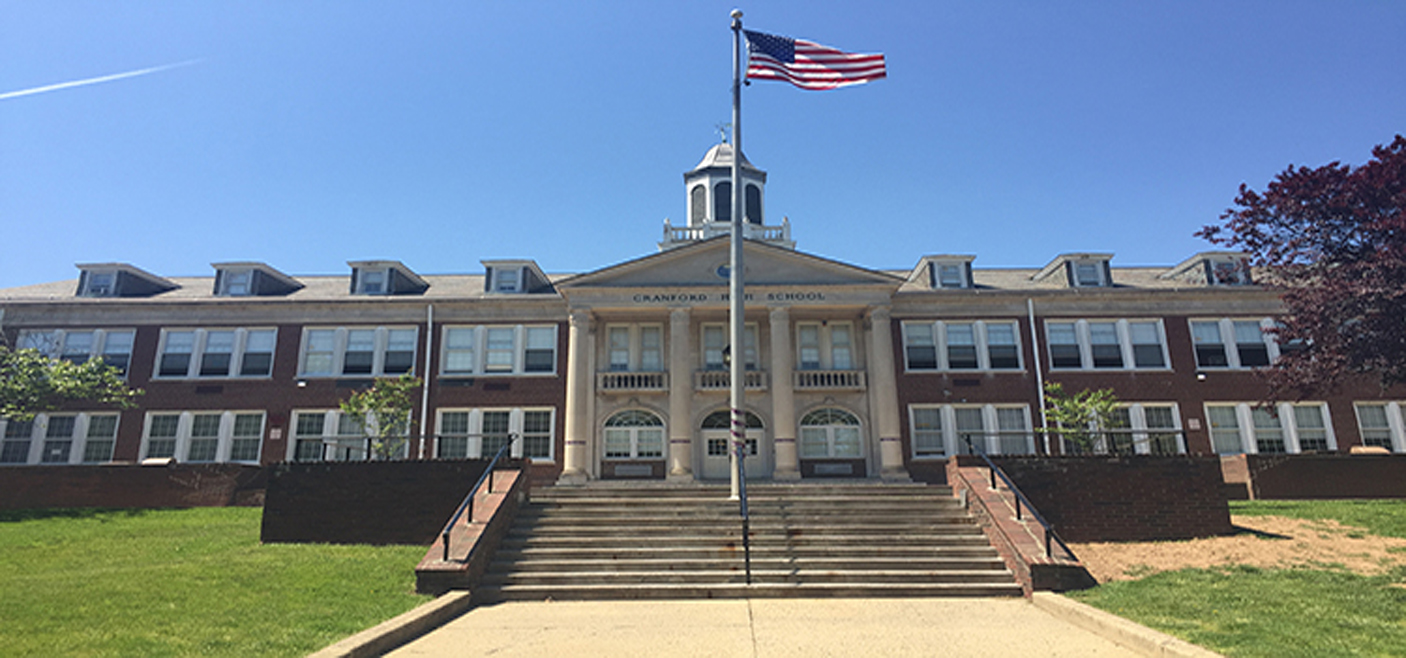 Cranford High School Principal's Monthly Report:
On September 8, 2017 Cranford High School made history. We started our first day of the Rotate and Drop Schedule. It was an impressive event that was well executed by the teachers, students, custodians, administrators, secretaries, and community members. We stood together unified and changed the direction of Cranford High School forever.
Students reported, "Though we come to school earlier, the day goes so much faster." Another student remarked, "I am not rushing around the building anymore and I have time to get work done during lunch." A senior noted, "We are able to complete more in depth learning activities during class, I enjoy the longer periods." An underclassman told me, "It is nice to choose where I get to sit during lunch." One senior said, "Open Campus is very efficient and no one wants to be late because we will lose our privilege."
Teachers have stated, "I like that I can transition to multiple activities during the class period." -- "The students are getting a lot accomplished during class." -- "The students love the new schedule and enjoy coming to school more."-- "I am able to assist students on a one to one basis now."-- "The lunch lines are shorter than they were last year."-- "Kids are coming to me for extra help during lunch and it is helping them understand things before the next class."-- "I was not a believer, but seeing it in action is amazing, I am on board now."
The schedule is going so well that another school heard about the successful implementation and wanted to visit our school as a model for their potential move toward a Rotate and Drop schedule.
In January 2017, the CHS Concert Choir present their first-ever solo performance at Carnegie Hall, New York City in a program of invited choirs entitled, "Of War, Peace, and the Power of Music." Fifteen students were accepted into NJ All-State Choruses, and seventeen students were selected for the American Choral Directors' Association All-Eastern Honor Choirs.
Academy students travelled to the Regional High School Dance Festival in Norfolk, VA participating in five days of master classes, workshops, lectures and performances with a special dance college fair and scholarship audition. Two CHS dance films were featured in the Festival's OnCamera event and two students received scholarships for summer intensives from Philadelphia University of the Arts and Bates College. Student work was selected for the DanceUp! Festival at the 92nd Street Y in New York City and at the Teen Arts Gala at the UC Performing Arts Center and the State Teen Arts Festival. The Academy hosted guest artists Akhila Deshwari for Contemporary Indian Dance and Patti Crumrine for Hip-Hop Dance classes.
Cranford High School is happy to boast that 891 AP tests in 30 disciplines were taken by CHS students this past year. 71% of these students scored a "3" or higher. We had a result of 155 AP scholars as a result of their hard work and dedication.
In the New Jersey Monthly, Cranford High School remains one of the "Top High Schools in New Jersey," ranked #54 in the state.
The Washington Post says that in 2017 CHS ranked #535 in a nationwide analysis of public high schools and ranked CHS #18 in New Jersey, and 2nd in Union County, up from #856 nationally and #23 in the State in 2016.
CHS theater productions were recognized with 12 nominations and 2 awards at the Montclair Theatre Night Awards Program May 2017. Four students received awards for their monologues and scenes at the Speech and Theatre Association of New Jersey's annual competition.
Two students had their art work shown at the prestigious juried high school art exhibition Fresh Perspectives at the Morris Museum and two students had their work shown at the Congressional Art Show. One student's poster was selected for AAA 2017-2018 School Calendar. Four students had their work selected for exhibit at the Union County Teen Arts Showcase.
A CHS student received Honorable Mention for the second straight year in the National Center for Women and Informational Technology award for Aspirations in Computing. CHS teacher Richard Bell was recognized with the NJ Educator Award from the National Center for Women and Informational Technology. Cranford High School received a grant from the Cranford Fund for Educational Excellence to purchase a 3D Printer, which has been incorporated into several of the computer classes.
One CHS senior entered the Scholastic Art and Writing Awards nationwide competition during 2016, among a select few who have made it to the National Medalist level after winning a Regional Gold Key award for her memoir. That student was also a New Jersey Scholar last year. A current junior student advanced from the school-wide Poetry Out Loud competition to the regional competition at South Orange Performing Arts Center. The annual Poetry Palooza is a celebration where students perform poetry that is both original and of established poets. The event features students from Creative Writing, Speech Arts, and Performing Arts classes as well as staff from the Cranford High School literary magazine, Prologue.
CHS Engineering students participated in the Union County Bridge Building competition at UCC and the Panasonic Robotics Competition at NJIT; woodworking students raised money to purchase Toys for Tots by creating and selling various student made projects such as cutting boards, bowls, cheese boards and other items; automotive students kept teachers and community members on the road by completing car repairs at cost as part of their coursework. Automotive students took a trip to the Auto Training Center in Pennsylvania to learn about post secondary opportunities in the automotive field. Two Automotive students entered the UTI (Universal Training Center) Top Tech Challenge.
Two Conference Championships, two County Championships, two State Sectional Championships, two Union County Scholar Athletes, and one New Jersey State Scholar Athlete.
On January 5, Cranford High School sent 88 students to the NJ DECA Regional Conference at Kean University to compete against students from 22 other high schools across Central New Jersey, including Warren Hills High School, Highland Park High School, and Sayreville War Memorial High School. DECA prepares emerging leaders and entrepreneurs for careers in marketing, finance, hospitality and management in high schools and colleges around the globe. DECA is a program for business-minded students looking to find real world applications for what they learn in their business classes. At the conference, students are presented with business scenarios, given 10 minutes to creatively solve the problem, and another 10 minutes to role play the solution before a judge. In addition to the role play, all DECA members are required to take a written test in their chosen business area. Thirty-five CHS students placed among the top 10 in their respective events at the regional competition, qualifying them to attend the NJ DECA State Career Development Conference in Atlantic City in February. Students must place among the top 3 in their event at the State Conference to qualify for the DECA International Career Conference, held in Anaheim, California, in late April. Four students qualified to compete in California, and one student won an instructional award for her event, Food Marketing. She was a top scorer in one of her three events and was recognized on stage for Role Play #2. There were approximately 150 competitors in this event, with delegations from So. Korea, China, Canada, Mexico, and all 50 states. Almost 20,000 high school students attended this convention.
Students
We are pleased to announce the 6 senior students who achieved Commended Student status in the 2018 National Merit Scholarship Program. Over 1.6 million students took the Preliminary SAT/National Merit Scholarship Qualifying Test (PSAT/NMSQT) in October 2016. Gabriel Beckford; Keith Brown; Meg Cui; Dylan Depuy; Katherine Ruane; and Katherine Stochel are among the 34,000 students who are considered high performers and are being recognized for their exceptional academic performance. These students scored at or above the Commended Student Selection Index score but below their state or selection unit's Semifinalist Selection Index score; therefore, making them Commended Students.
Adam Hollanek has been nominated and selected to be the junior class student Board of Education representative
Clair Ushay was the first student in the history of CHS go out for Open Campus.
Many CHS students are brainstorming and implementing fundraisers to support the victims of Hurricane Harvey and Irma.
During Breast Cancer Awareness Month many of our athletic teams are supporting the cause with various "pink out" activities.
Two CHS students were selected to attend Boys State this past summer.
Staff
In Mrs. Sherman's class she is assisting the students compose their college essays to ensure they have the best opportunity to be accepted into a school of their choice. Mr. Schugel's classes are rigorously working through understanding a problem and how to apply that same problem solving strategy throughout future problems. Mrs. Cathcart's Freshman Forum class was discussing why minimum wage is important and how it affects the future of small businesses. In Mrs. House's classes they were asked to utilized the design theory of STEM education, to build the tallest marshmallow tower in the world. Mr. Rosenblum's Architecture class students were designing two story houses that would fit in a nine hundred square foot floor plan.
The teachers are utilizing highly engaging lessons as a catalyst for rigorous learning.
The annual faculty barbeque was a resounding success.Over 80 staff members came out to celebrate the return to school.
School Info

In addition, important information can be found on the right navigation as well as below. I encourage you to take a few moments to review the following documents, and please feel free to contact me with any questions you may have.


Academic Integrity Procedures (UPDATED)
Final Exam Procedures (UPDATED)
In addition the following documents are also posted on the side navigation. These forms are optional and should only be returned if you choose to apply.
Free and Reduced Lunch Packet (Please complete and return to homeroom teacher if you choose to apply.)
Application for Student Accident Insurance (Please complete and return to homeroom teacher if you choose to apply.)
Hard copies will also be available in the main office.
Please take some time to review our entire website at your convenience as it is has a wealth of information.
Lockers
All students are assigned a locker with a combination lock to secure their school supplies. Please note that due to security reasons, only school issued locks may be used on lockers. We expect that students will keep the lockers neat and clean. Students will be responsible for damages and may be assessed the cost of repair. If, however, students find their lockers have been damaged in any way, they should report it to the main office immediately. In addition, students will need to keep their locks for their high school years. Before they graduate or leave the high school for any other reason, the students must return their locks to us. If students lose a lock or do not return a lock, they will be assessed the replacement cost at the time of loss. This year's replacement cost is five dollars.
Surveillance Cameras
Cranford High School has security cameras inside the building and around the perimeter of our school to ensure the safety of all staff, students, and visitors and to safeguard our facility from vandalism and theft. Cameras will be used in locations as deemed appropriate by the administration. Video recordings will be reviewed if there is evidence that a violation of board policies, administrative regulations, building rules, or laws has occurred.