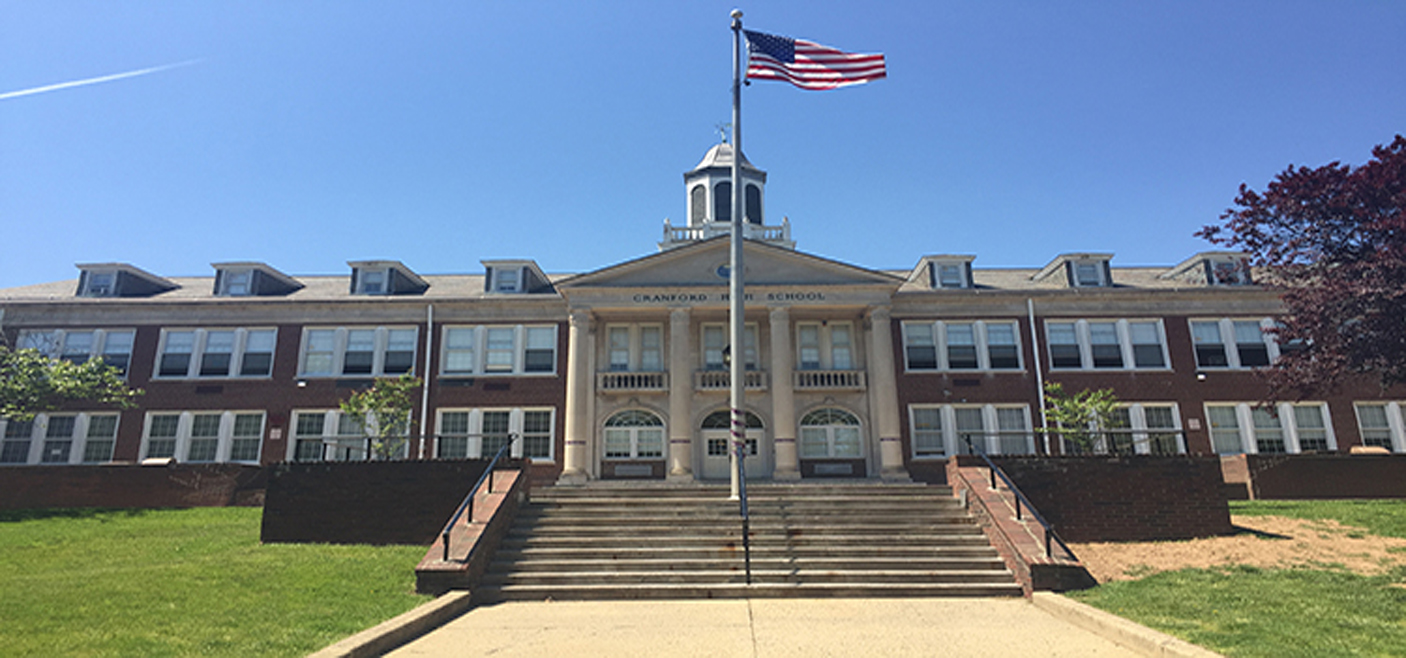 Cranford High School Principal's Monthly Report:
On September 8, 2017 Cranford High School made history. We started our first day of the Rotate and Drop Schedule. It was an impressive event that was well executed by the teachers, students, custodians, administrators, secretaries, and community members. We stood together unified and changed the direction of Cranford High School forever.
Students reported, "Though we come to school earlier, the day goes so much faster." Another student remarked, "I am not rushing around the building anymore and I have time to get work done during lunch." A senior noted, "We are able to complete more in depth learning activities during class, I enjoy the longer periods." An underclassman told me, "It is nice to choose where I get to sit during lunch." One senior said, "Open Campus is very efficient and no one wants to be late because we will lose our privilege."
Teachers have stated, "I like that I can transition to multiple activities during the class period." -- "The students are getting a lot accomplished during class." -- "The students love the new schedule and enjoy coming to school more."-- "I am able to assist students on a one to one basis now."-- "The lunch lines are shorter than they were last year."-- "Kids are coming to me for extra help during lunch and it is helping them understand things before the next class."-- "I was not a believer, but seeing it in action is amazing, I am on board now."
The schedule is going so well that another school heard about the successful implementation and wanted to visit our school as a model for their potential move toward a Rotate and Drop schedule.
The Sociology course at CHS hosted some senior citizens this month to encourage intergenerational studies.
The CHS Senior Night, organized by Lisa Burfeindt, was very successful. The parents and students learned about the planning steps for their final year of high school.
Cranford High School is happy to boast that 791 AP exams were taken in 2017 and we had 155 AP scholars as a result of their hard work and dedication.
The Teacher Cadet program at CHS is successfully running its Cougar Cub program that hosted the parents last week for an open house event. The students help Pre-K children learn on a weekly basis by creating their own lessons and supporting the student learning goals.
The Marching Band won Best Music at the Somerville Pioneer Band Festival and overall finished in second place. The CHS Opening Gala Concert rose the level of brilliance. Under the supervision of Anthony Rafaniello the Dance Program led by Emily Donahue, Band Program led by Dan Chernosky, Acting Program led by David Marconi and Choral Program led by Meghan Magnus the event was something to behold. The elegance and grace of the dancers, the pointed and directed notes of the band, the conviction and hilarity of the actors, as well as the serenity and pitch of the choir brought the audience to a state of euphoria.
Students
We are pleased to announce the 6 senior students who achieved Commended Student status in the 2018 National Merit Scholarship Program. Over 1.6 million students took the Preliminary SAT/National Merit Scholarship Qualifying Test (PSAT/NMSQT) in October 2016. Gabriel Beckford; Keith Brown; Meg Cui; Dylan Depuy; Katherine Ruane; and Katherine Stochel are among the 34,000 students who are considered high performers and are being recognized for their exceptional academic performance. These students scored at or above the Commended Student Selection Index score but below their state or selection unit's Semifinalist Selection Index score; therefore, making them Commended Students.
Adam Hollanek has been nominated and selected to be the junior class student Board of Education representative
Clair Ushay was the first student in the history of CHS go out for Open Campus.
Many CHS students are brainstorming and implementing fundraisers to support the victims of Hurricane Harvey and Irma.
During Breast Cancer Awareness Month many of our athletic teams are supporting the cause with various "pink out" activities.
Staff
In Mrs. Sherman's class she is assisting the students compose their college essays to ensure they have the best opportunity to be accepted into a school of their choice. Mr. Schugel's classes are rigorously working through understanding a problem and how to apply that same problem solving strategy throughout future problems. Mrs. Cathcart's Freshman Forum class was discussing why minimum wage is important and how it affects the future of small businesses. In Mrs. House's classes they were asked to utilized the design theory of STEM education, to build the tallest marshmallow tower in the world. Mr. Rosenblum's Architecture class students were designing two story houses that would fit in a nine hundred square foot floor plan.
The teachers are utilizing highly engaging lessons as a catalyst for rigorous learning.
The annual faculty barbeque was a resounding success.Over 80 staff members came out to celebrate the return to school.
School Info

In addition, important information can be found on the right navigation as well as below. I encourage you to take a few moments to review the following documents, and please feel free to contact me with any questions you may have.


Academic Integrity Procedures (UPDATED)
Final Exam Procedures (UPDATED)
In addition the following documents are also posted on the side navigation. These forms are optional and should only be returned if you choose to apply.
Free and Reduced Lunch Packet (Please complete and return to homeroom teacher if you choose to apply.)
Application for Student Accident Insurance (Please complete and return to homeroom teacher if you choose to apply.)
Hard copies will also be available in the main office.
Please take some time to review our entire website at your convenience as it is has a wealth of information.
Lockers
All students are assigned a locker with a combination lock to secure their school supplies. Please note that due to security reasons, only school issued locks may be used on lockers. We expect that students will keep the lockers neat and clean. Students will be responsible for damages and may be assessed the cost of repair. If, however, students find their lockers have been damaged in any way, they should report it to the main office immediately. In addition, students will need to keep their locks for their high school years. Before they graduate or leave the high school for any other reason, the students must return their locks to us. If students lose a lock or do not return a lock, they will be assessed the replacement cost at the time of loss. This year's replacement cost is five dollars.
Surveillance Cameras
Cranford High School has security cameras inside the building and around the perimeter of our school to ensure the safety of all staff, students, and visitors and to safeguard our facility from vandalism and theft. Cameras will be used in locations as deemed appropriate by the administration. Video recordings will be reviewed if there is evidence that a violation of board policies, administrative regulations, building rules, or laws has occurred.