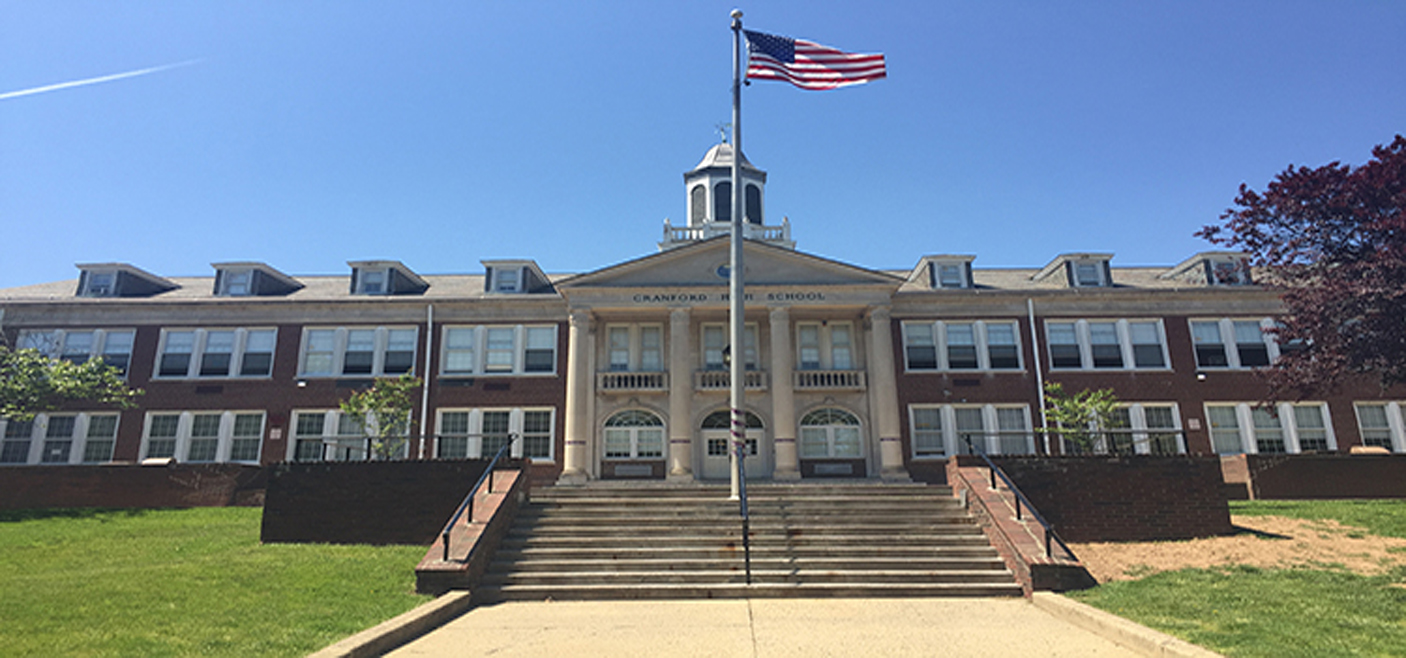 June 2017 Update
Cranford High School throughout the spring has shown why it produces well rounded students that go on to attend schools such as Princeton and West Point. Our Performing Arts program has kicked off the spring with fantastic performances from our Choral groups, Band, Orchestra and Dance students. The level at which these students excel is unmatched by any program around. It is a credit to our amazing staff, students and families. Our athletic programs are thriving with both the Junior Varsity and Varsity Baseball teams in the finals of the County Tournament. An example of the outstanding students that attend CHS is that from approximately 1.6 million students who entered the 2017 National Merit Scholarship Program only 7,500 students win a scholarship. Grace Chen has been selected as a National Merit Scholarship winner! This is an absolutely fantastic achievement that holds the highest level of prestige and honor. Congratulations! This was the second year that Criminal Justice students participated in the week-long Police and Teens Together Program with the Cranford Police Department. Students had the opportunity to share their encounters with the police and ask specific questions about encounters they have had with the police and about the outcome of those encounters. Students also have the opportunity to participate in a simulation where they become the police officers and must stop police officers (acting as civilians) in a "car stop." The program concludes with students watching their car stops and analyzing their actions. Roughly a week later under the direction of Mr. Darren Torsone, Athletic Director, and Detective Kelly Reider, SRO, CHS ran a simulation program that educated students on the dangers of driving under the influence. These are another great example of the amazing relationship that the Cranford Police Department and the Cranford Public Schools have with each other. A few celebrations that have recently occurred were the induction of the new group of National and World Language Honor Society students this past month, and both the Junior and Senior Awards programs which highlighted the achievements of our students in various areas of achievement and service. On June 12th for the first time in CHS history all of the students at Cranford High School that achieved honors at the conference, county, state, or national level in an extracurricular, co-curricular, or athletic event/activity sponsored by the Board of Education will be recognized for their achievements. Over 250 students at CHS have accomplished this outstanding achievement of excellence.
Student Accomplishments

Samantha Davis place 4th All Around in her age group and made the USA Gymnastics Jr Olympic National Team for the second year. As a result, she will attend Olympic training camp in Texas in September and compete for the USA in Peru in October. Four Cranford High School DECA delegates attended the International Career Development Conference in Anaheim, California from April 25-30, 2017. It is with great pride that we announce that Kelly Drake won an instructional award for her event, Food Marketing. This means that she was a top scorer in one of her three events. Kelly was recognized on stage for Role Play #2. There were approximately 150 competitors in this event with delegations from So. Korea, China, Canada, Mexico and all 50 states. Almost 20,000 high school students attended this convention. Mr. Brian Niemsyk (Head Teacher CAMP) informed me that he was recently at the Soup Kitchen in Elizabeth and he was impressed to see several of our high school students (Interact Club members) volunteering their time by helping serve meals to the less fortunate. These students reportedly gave up their time on the weekend to provide this service to those in need. Their efforts did not go unnoticed and I would like to commend Susan Ulaky, as Interact Advisor, and the following high school students: Pria McNeil Chris Giuditta Claire Rayball Ben Quinutolo Alexandra Valdes Ellen Rokicki Due to an outstanding presentation given by representatives of the Class of 2018 "Open Campus" has been approved by the Board of Education. Kudos to those students for their organization, leadership and poise to pull off such a wonderful presentation. Under the direction of Mr. Marconi "Letters to Sala" was an absolutely fantastic show that occurred on Friday 5/26/17. The students both on and off the stage continue show their prowess as accomplished Theatre students. German National Exam Achievement Award Sarah Pardal Lucia Pizarro Andrew Tessitore Anthony Graziano Alyssa Fiebiger Bronze Award Olivia Chandler Kerry Pollock Gold Award Connor Fitch
Staff Accomplishments

The Curriculum Council, ScIP committee, Administrative Cabinet, School Safety Team and Faculty Advisory council have been hard at work throughout the year to continue to improve upon the already amazing accomplishments of Cranford High School. Each group comprised of administrators and faculty have made adjustments to create positive change. As the principal it is a euphoric feeling to know that I work with such dedicated professionals each and everyday. The Spring Orchestra and Masterwork Concert conducted by Mrs. Lynn Berry and Mr. Anthony Rafaniello was a monstrous cap to an outstanding career of Mrs. Berry. It highlighted her undying desire for excellence, which was bred from her unmatched knowledge and passion for the arts. Congratulations to Mr. Rafaniello for being the Vincent F. Sarnowski Award winner, the Cranford Rotary Club's "Teacher of the Year". In the case of education, we provide the Vincent F. Sarnowski Award. Mr. Sarnowski was Superintendent of the Cranford Public Schools until 1973 and was a Past President of the Cranford Rotary Club. The Vincent F. Sarnowski award is given to a Cranford "Teacher of the Year" as recommended by the Cranford school system. In addition to providing public recognition of this award and a Plaque, the Cranford Rotary will make a donation of $250 in Mr. Rafaniello's name to the charity of his choice.