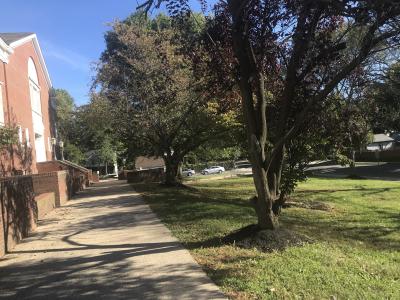 Cranford High School Principal's Report:
May 2019
The Cranford Police Department provided a Police and Teens Together Program at CHS. This program is intended to break down barriers of communication between our youth and police officers through exercises in open dialogue, role reversals and understanding mutual perspectives. The feedback from the students was overwhelmingly positive!
Overseen by Lisa Williams, the money raised from the Autism Awareness T-shirt Fundraiser was very successful. PRIDE and the high school were able to donate to the following organizations.: $1,048.50 to Cranford Family cares, $838.00 to the Valerie Fund and $209.50 to the Toys for Tots Programs. Below is a picture of Antonio Paul and Mrs. Williams with Kathy Willis at Cranford Family Cares.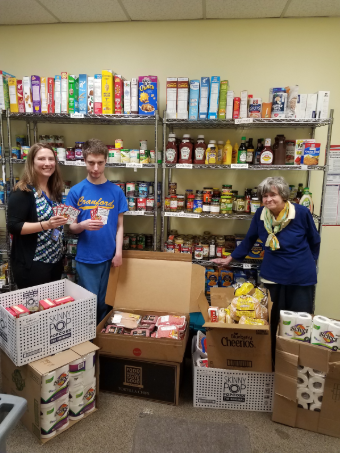 The Global Affairs Cohort attended a Consulate Crawl through New York City. They visited the Consulate General of India and Israel and met with the International Criminal Court Liaison Office to the United Nations.
The University Students attended a presentation by Jonathan Lu of Princeton University who delivered a presentation on climate change research and advocacy.
The Senior Awards Program was held on June 6 at CHS. Many of our seniors were honored for their academic and extra-curricular accomplishments with scholarships and awards. This event was well attended by the award recipients, their families, community members, faculty and administration.
The Junior Book Awards Program was held in the courtyard on June 7. The rising seniors were honored and recognized by several Colleges and Universities, along with Dr. Rubin, through their academic achievement, leadership, service, concern for others or the environment, and their commitment to various activities. They were presented with a either book, a medal or a plaque.
The Global Affairs Cohort celebrated the 2nd annual festival of colors There was food, music, and sari demonstrations! Everyone came in white shirts and left full of brilliant colors!
The elementary schools welcomed the Cranford High School seniors for the second annual Graduates Go Back! Upon return to the high school, the seniors expressed their excitement of seeing their previous teachers, and also enjoyed walking through the halls and seeing the expressions on the faces of the students!
---
April 2019
The Cranford Chapter of the National Honor Society, an organization based on leadership, scholarship, service and character, held its annual induction ceremony on April 24.
On April 25 CHS participated in bring your child to work day. The children enjoyed some pizza and hands on activities. What a fun and educational day enjoyed by all!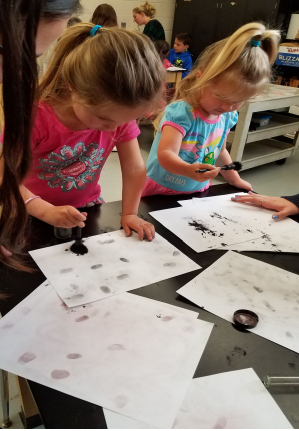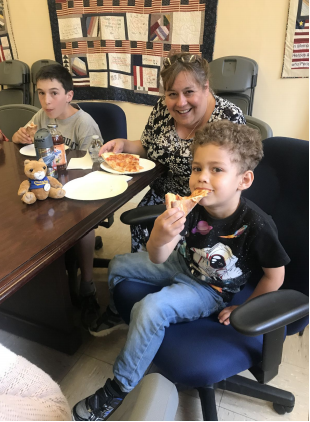 CHS, organized by Ms. Gina Klemm, conducted a Military Open House during lunch. Several Branches of the Military including the National Guard, Marines, Army and the Air Force were present to discuss potential career opportunities.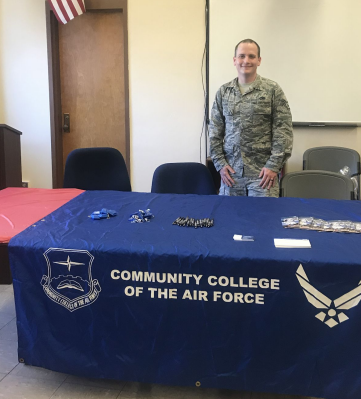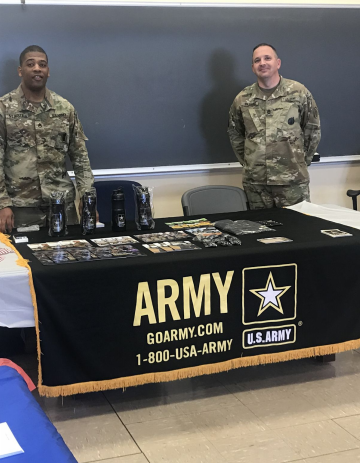 The students enjoy raising funds for The Interact Club to donate to the Rotary Scholarship fund on Friday, May 10 through a "Pie in the Face" event. The event was a smashing success thanks to Mr. Ciarrocca, Ms. Lewis, Ms. Yorkanis and Mr. Cantagallo.
Students
May 2019
CHS is pleased to announce that Ethan Haughey has been selected and awarded as a winner of the National Merit Rutgers, the State University of NJ scholarship.
CHS Student Council won two awards from the New Jersey Association of Student Councils (NJASC). The first one was the Community Smile Award which recognized many hours of service provided by Student Councils across our state to their school communities. CHS contributed over 6,000 hours of community service. The student council also won a NJASC State Charity Award for donating over $1,000 for year's state charity called One Simple Wish who provide opportunities for NJ foster children.
Ms. Magnus and the Madrigal singers enjoyed their final concert on Sunday, June 2 at Trinity Church in Cranford.
Alexis Santoro was honored by The New Jersey Cheer and Dance Coaches Association with the 2019 Scholarship award for her excellence in academics distinction. Alexis is the only third Cranford High School cheerleader to be awarded a scholarship from the NJCDCA.
---
April 2019
Grace Caldwell, Abigail Cisneros, Alyssa Colombrita, Sofia Pollack and Olivia Tardibuono, volunteered their time to help out during Astronomy Day with is run by the Amateur Astronomers, Inc. Astronomy Club, at Trailside Nature and Science Center on April 13. The students were extremely helpful and worked with the children in helping to educate them about the moon and space travel in a fun and entertaining environment. The club was very thankful and enjoyed the students enthusiasm and assistance to help make their event very successful.
Congratulations to Andrew Gordon for winning best Actor and Nora Sullivan for winning best Actress! They are both recipients of the 2019 NJ Governor's Award in Arts Education. They also won for best scene in a play called "Curious Incident of The Dog in the Nighttime". That award was accepted by Noah Wohlsen.
The Spring Choral Concert "American Grassroots" performed their spring concert on April 25. The Women's and Men's Chorus, Unaccompanied Minors, Madrigal Choir, and Concert Choir put on many wonderful performances. The graduating seniors were also recognized by being presented with awards and a dedication song.
The Spring Band Concert was performed at Orange Avenue School on May 2. The Concert Band, Drumline and Jazz Band serenaded the crowd. Special guests included the CHS Madrigal Ensemble, J. Pienciak-CHS Alumni and K. Jala-CHS Mathematics Teacher.
Staff
May 2019
Mr. Vito and his committee organized the 12th annual Relay for life. They raised over $128,000 for this year's relay.
Mrs. Rendek's US 1 Honors class analyzed historical documents on a field trip to the Metropolitan Museum of Art on Monday, June 3rd.
Mr. Mangarelli organized an assembly for the 11th grade students in honor of Memorial Day where veterans Jay Boxwell, Haniff Davis and Lee Blowe gave a presentation on their experiences in the military.
Congratulations to Mrs. Michelle Balseiro on being selected for the Vincent F. Sarnowski Award Recipient for 2019 by the Cranford Rotary.
Yui Kimura's (J-LEAP exchange co-teacher from Japan) friends and family visited the Japanese 3 class to infuse authentic culture and language into the lesson. and Fumi Nakamatsu first enjoyed a language exchange with the students, conversing about themselves in both Japanese and English. After self-introductions, our guests taught the class a traditional dance performed in the summer during the O-bon Festival. Finally, students sampled Japanese snacks that our visitors had brought from Japan.
---
April 2019
Mrs. Cathcart's Marketing class enjoyed a Guest Speaker, Chloe Sanducci, who discussed the purpose, importance and benefits of the FAFSA through the Financial Education & Financial Literacy courses sponsored by Spencer Savings Bank.
The teachers and staff at CHS enjoyed a fantastic luncheon served and provided by the parents and representatives from the PTA to help celebrate Teacher Appreciation Week!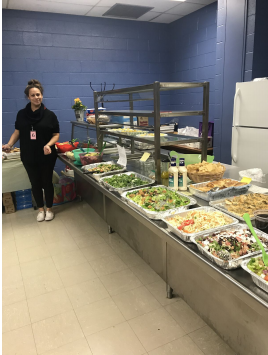 Links

In addition, important information can be found on the right navigation as well as below. I encourage you to take a few moments to review the following documents, and please feel free to contact me with any questions you may have.


Additional Info
These forms are optional and should only be returned if you choose to apply.
Hard copies will also be available in the main office.
Please take some time to review our entire website at your convenience as it is has a wealth of information.
Lockers
All students are assigned a locker with a combination lock to secure their school supplies. Due to security reasons, only school issued locks may be used on lockers and this lock should be kept throughout high school and returned upon graduation. Students are expected to keep the lockers neat and clean. Students will be responsible for damages and may be assessed the cost of repair. Any damages to lockers should be reported immediately. Loss of a lock will result in a five dollar replacement fee.
Surveillance Cameras
Cranford High School has security cameras inside the building and around the perimeter of our school to ensure the safety of all staff, students, and visitors and to safeguard our facility from vandalism and theft. Cameras will be used in locations as deemed appropriate by the administration. Video recordings will be reviewed if there is evidence that a violation of board policies, administrative regulations, building rules, or laws has occurred.