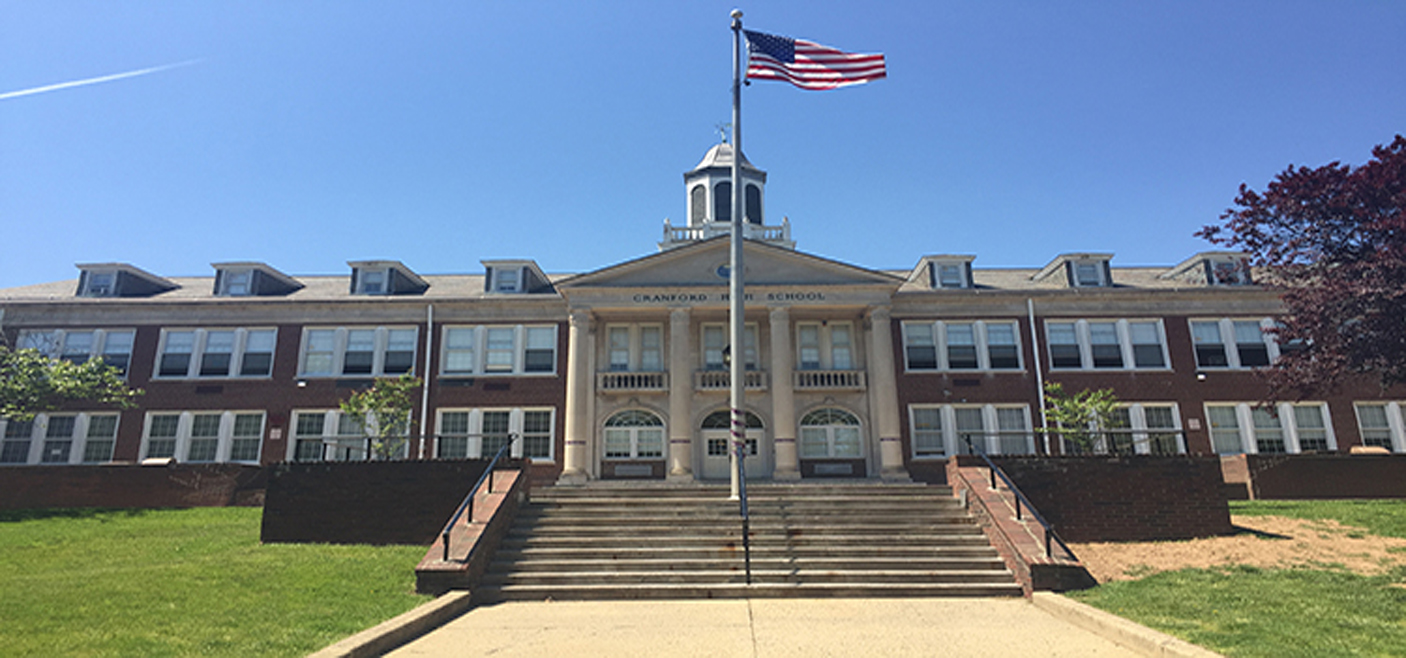 Cranford High School Principal's Welcome to Families:
Dear Parent(s), Guardian(s), and Student(s):
Use your imagination as you read these words to visualize a community of learners:
Professional, Spectacular,
Rigorous, Enjoyable, Immaculate, Leaders,
Exciting, Safe, Dedicated, Comfortable.
These are some of the many words that describe our staff, students, parents, school and community. As Cranford High School moves into the 2018-2019 school year, we have reached new heights. Here are some of the highlights:

● Year Two of a 1 to 1 laptop situation in English class;
● Triple the number of devices available to students from 2016;
● A 9% increase in AP scores, the highest since 2013;
● SAT and PSAT scores are on the rise as we widen the already large gap between CHS and the state and national averages;
● Security procedures have been greatly enhanced as per feedback from students, parents, staff, CPD, CFD and administrators;
● Student communication upgrade... we have added gmail accounts for all students. to use which is further explained in an attached letter;
● NJ Monthly Magazine's "Top Schools in NJ" ranked CHS 31st in their biennial report. This is an increase from our 2016 ranking of 54th;
● We continue to look towards improving our school as we stay on the path towards greatness.

This summer I was fortunate to attend a New Jersey Department of Education-Principal's Leadership Conference where a principal hopes to leave with confirmation that his/her school/district is doing great things and some new ideas. Cranford High School is definitely competitive with schools across the state. Many leaders questioned me about our programs, supports, structures and schedules for ideas on how to improve their schools. This is a credit to the outstanding staff and community at the high school and our continuing efforts to achieve.

"We are what we repeatedly do. Excellence, therefore, is not an act, but a habit. "
-Aristole
Logistics
Listed below is the schedule for the first day of school (Thursday, September 6th). Attached you will see the Rotate and Drop Schedule and the Rotation Calendar for the year. This link will bring you to our lunch menu app, which allows students to pre-order their food for lunch so they do not have to wait in line!!!! www.orderyourdeli.com/cranford.
Single Session Schedule for Grades 9-12 for Thursday, September 6, 2018
| Period | Time |
| --- | --- |
| Homeroom | 8:00 – 8:20 |
| 1 | 8:24 - 8:52 |
| 2 | 8:24 - 8:52 |
| 3 | 9:28 - 9:55 |
| 4 | 9:59 - 10:26 |
| 5 | 10:30 – 10:57 |
| 6 | 11:01 - 11:28 |
| 7 | 11:32 - 11:59 |
| 8 | 12:03 - 12:30 |
No lunch period is scheduled for grades 10, 11 or 12. Freshmen and incoming students will remain for lunch and be dismissed at 2:55 p.m.
● Grades 10 and 11 will be dismissed at 12:30 p.m.
● New students and freshmen will report to the Martin Gymnasium at 12:35 p.m. Staff members will meet the students, Mr. Sorrentino will provide staff and students with an outline of the afternoon's program, and PRIDE members will escort them to the cafeteria for a welcoming lunch.
● 12th grade students will report to the auditorium for a brief Open Campus meeting
Links

In addition, important information can be found on the right navigation as well as below. I encourage you to take a few moments to review the following documents, and please feel free to contact me with any questions you may have.


Additional Info
These forms are optional and should only be returned if you choose to apply.
Hard copies will also be available in the main office.
Please take some time to review our entire website at your convenience as it is has a wealth of information.
Lockers
All students are assigned a locker with a combination lock to secure their school supplies. Please note that due to security reasons, only school issued locks may be used on lockers. We expect that students will keep the lockers neat and clean. Students will be responsible for damages and may be assessed the cost of repair. If, however, students find their lockers have been damaged in any way, they should report it to the main office immediately. In addition, students will need to keep their locks for their high school years. Before they graduate or leave the high school for any other reason, the students must return their locks to us. If students lose a lock or do not return a lock, they will be assessed the replacement cost at the time of loss. This year's replacement cost is ten dollars.
Surveillance Cameras
Cranford High School has security cameras inside the building and around the perimeter of our school to ensure the safety of all staff, students, and visitors and to safeguard our facility from vandalism and theft. Cameras will be used in locations as deemed appropriate by the administration. Video recordings will be reviewed if there is evidence that a violation of board policies, administrative regulations, building rules, or laws has occurred.
I hope that this information is helpful to you. Please do not hesitate to call us if you need further assistance. The staff and I look forward to meeting you at our Back to School Night on Thursday, September 20, 2018.
Go Cougars!
Mark Cantagallo
Principal