Bill Albans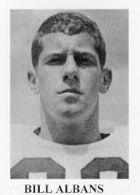 Albans made his mark in both high school and college football. He was signed by the Pottstown Firebirds of the Atlantic Coast Football League in 1971. Albans led the CHS Cougars in touchdowns with 8, receptions with 22 and yards with 442. A 1966 graduate, Albans was lst Team All County and conference and 2nd Team All State Group IV and All State All Groups.
The Albans was a defensive back at Gettysburg College achieving All American Honorable Mention, 3rd team All Pennsylvania and the Co-Captain of the East-West All Star Game in 1970.
Chuck Archdeacon
A two sport athlete at CHS, Archdeacon was a 3rd team All State Group IV, 2nd team All Union County and a 1st Team All Watchung Conference football player for the Cougars on a team ranked 8th, by the Star Ledger, in the State. Archdeacon went onto play college football at Montclair State College and was a member of the 1970 team that played in the first Knute Rockne Bowl in Atlantic City.
Archdeacon is probably best known for his commitment to youth sports in Cranford; serving as coach, organizer and founder of such organizations as the PAL, Sports Hall of Fame, and the National Youth Sports Coaches Association.
1971 Baseball Team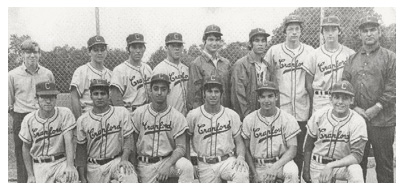 The 1971 Baseball Team was coached by Norm Koury. This outstanding team was Watchung Conference Champions, Tri-County Champions, Regional Champions, State Sectional Champions, and Group IV State Champions. Their final record stood at 24 - 2.
Cy Dadd
Dadd was a 1936 graduate of Cranford High School. He was a three sport athlete, lettering in the big three; football, basketball, and baseball
Dadd was a two-year Varsity Letterman in football; receiving All State Honors as a Quarterback in 1935, In basketball, he played on a state championship team and earned Third Team All State Honors. Dadd played on the Varsity Baseball team as a freshman, earning All State Honors in 1934-1936 as a catcher. He was considered one of the best all around athletes of his time.
Jessica Dreyer
Dreyer, a 1994 graduate of CHS was a three sport athlete achieving All State and All County honors her senior year in Field Hockey, Basketball and Softball. In basketball, Dreyer set records for the most points, 1399; most rebounds, 756; most steals, 275; and most blocks, 150.
Dreyer was the U.C.I.A.C. Scholar Athlete and a recipient of a Booster Club Scholarship her senior year at CHS. Dreyer graduated from the University of Massachusetts in 1998.
Thomas D. Muldrow
Muldrow starred as an offensive and defensive tackle at CHS and was elected as team co-captain his senior year in 1945. Muldrow earned All County Honors both in Football and Basketball as well as being a four-year letterman in Track & Field. Muldrow was the CHS High Jump record holder from 1946-1976. He was considered to be one of the greatest all round athletes of his time.
Muldrow won a grid scholarship to Lincoln University in Pa. and played for the Cranford Clippers as a two-way tackle from 1947-1952.
Michael Pender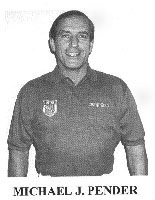 One of the final four at the Olympic trials in 1968, Pender was one of the best wrestlers to have wrestled at CHS. Pender was a District 6 champion and placed a 2nd at regions in 1962; the year he graduated from CHS. After high school, he was a four-time state freestyle champion, and a winner of 100 open tournaments in a 17 year wrestling career.
Pender coached the recreation wrestling team, the Central Jersey and Union County League, the NJ high school freestyle swim team, the Junior Pan American tournament, as well as the NJ high school freestyle teams at an international exchange in both Denmark and Iran.
Frank Sayre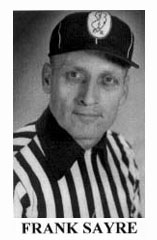 A graduate of Cleveland High School in 1937, Sayre earned a total of 7 Varsity letters as a member of the Football, Basketball, and Baseball teams. He was a member of the 1936 Football team which finished 9-1.
Sayre was an outstanding Football and Baseball official for 45 years. He recieved many awards and accolades for his service to officiating and in 1992 was inducted into the Union County Baseball Hall of Fame.
Kristi White
A graduate of CHS in 1992, White was an indoor and outdoor All State, All County, and All Conference Track & Field Champion in the high jump, javelin, and relay team. In 1991 and 1992, White dominated her events with such statistics as a 4 time Group Champion indoor/outdoor (3 events), 5 time County Champion indoor/outdoor (3 events), and 6 time Section Champion indoor/outdoor (3 events).
White went on to Rutgers where in 1995 & 1996, she was the NJ State High Jump Champion and was a three time member of the All East Team in both indoor/outdoor in the High Jump.