Thomas Albans III
Albans, a 1965 graduate of CHS, holds the Cranford High School record for the 880 yard run (1:56.2). "The greatest race I ever won was winning the 880 yard New Jersey State Championship in 1965." He placed 4th in the NJ Group IV state championship in the indoor 500 yard run and the outdoor 440 yard run. In 1965, Albans was the Watchung Conference champion in the 880 yard run.
He was voted the runner up for the High School Athlete at the Penn Relays. In 1965, Albans signed a full athletic scholarship to St. John's University where he was ranked #2 in the country as a freshmen and won 6 Metropolitan Conference championships.
Robert Amitrani
Amitrani, a 1976 CHS graduate, was the Union County champion for the mile run in 1975. Also in 1975, Amitrani won the NJ state Group IV championship for the two mile run. In the meet of champions, Amitrani placed 2nd in the 2 mile run. In 1976 Amitrani set two Union County records in the mile and two mile races. He won the 2 mile race in the meet of champions in 1976 and was named 1st team All-State in Cross Country and Outdoor Track. Amitrani was named to the "Star Ledger All Century Team" for Cross Country.
John Fedorchak
John Fedorchak graduated CHS in 1974. During that time he was a 3 letter winner and was named all Watchung Conference (1973) and All Union County (1973) for football. As a wrestler, Fedorchak was 18-0 in the 73-74 season, winning the Regionals and placing second in the Districts. In 1974, Fedorchak won the individual championship for the Watchung Conference in shot-put and discus. Fedorchak signed a full athletic scholarship to Rutgers University where the team had an 18 game win streak and went undefeated in 1976. In 1980, Fedorchak signed a contract with the New York Jets. Fedorchak was a varsity football, track, and 9th grade wrestling coach at CHS as well as a gym teacher from 1978-1980.
The 1957 Football Team
The 1957 football team was coached by Stan Grayson and assistants Paul Selby and Rollie Massimino. The team was the NJ Group III Section II state champion. They also won Watchung Conference championships in 1956 and 1957. They were the top ranked Group III school in the state, and the #8 ranked team in the whole state.
Donald Kern
Kern graduated from CHS in 1952. During this time, Kern was named to the 4 county All-Star team. As a baseball player, Kern was named All Union County and All State. He pitched 17 of 18 games for the Cougars posting a 13-4 record and setting two records (400 strikeouts and 218 innings pitched). He also posted a .63 ERA. In college at Ithaca, Kern pitched the first no hitter in Ithaca history throwing 19 strikeouts which today is still an Ithaca record. Kern signed a contract with the Philadelphia Phillies and played for their single A team, making the All-Star team. Kern also played for their AAA team and retired from baseball after the 1959 season.
Rich Mazzella
Mazzella graduated CHS in 1972 and played varsity baseball and basketball. Over his 3 years as a varsity basketball player, Mazzela averaged 15.6 points per game. He was named to the All Watchung Conference team twice and once to the All Group IV team. Mazzella is one of only four students to score over 1000 points during his high school career. As a baseball player, Mazzella was a member of the legendary 1971 baseball team, one of the best teams in school history. Mazzella played shortstop and pitcher and was named to 1st team All Union County and All Watchung Conference. During his college basketball career at Middlesex College, Mazzella averaged 16.3 points per game and was named a 1st team Region XIX All Star.
Robert Pender
Robert Pender graduated from CHS in 1980. During his 4 year span as a varsity wrestler, Pender went undefeated for 3 years, losing only once in dual meets in his whole 4 years of high school. Pender was a national high school champion and a member of the National Wrestling Hall of Fame. A high school All American, Pender won the state freestyle tournament 4 times as well as 3 district tournaments, 2 Union County championships, along with 50 open tournaments. He was the captain of the 1982 team and a member of the only undefeated wrestling team in school history. Pender represented the U.S.A. at the Junior Pan-American games placing 3rd and defeating the defending Jr. world champion. Pender also won the Dave Worth Memorial Trophy and qualified for the New Jersey national team and the International team. Along with all of his championships, Pender was 1st team All Watchung Conference 3 times and 1st team All Union County 2 times, as well as being named to the All Metro Team
Al Schmidt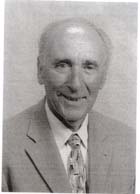 Al Schmidt graduated from North Plainfield High School in 1946, and from Rutgers in 1950. Schmidt was an English teacher at Cranford form 1958-1989. During the 1960's and 1970's, Schmidt was the varsity tennis coach. During his career at Cranford, Schmidt's teams won over 200 matches, 6 Union County championships, 12 Watchung Conference championships, and numerous players of his turned professional. Schmidt was involved in CHS sports event management for over 25 years and is still actively involved in recreational tennis.
Howard Stanley
Stanley graduated from CHS in 1936. During his high school career, he played varsity football, basketball, and track. He was the captain of the track team which on the state championship. He was also the Union County high jump champion in 1935. At Princeton, Stanley played football holding the NCAA and Princeton record for the longest TD reception (97 yards). He also holds the Princeton record for most TD receptions in one game (3 vs. Navy in 1939). In 1940, Stanley won the highest Princeton football award, the John P. Poe Trophy.
Richard J. Prior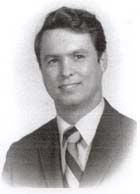 Richard Prior, a 1961 graduate of CHS, wrestled an entire season without allowing an opponent to score a single point. His overall varsity record is 60-3, 35-1 in dual meets. Prior went on to win a district championship, regional championship, and 2nd place in the state tournament in 1960. In 1961, Prior was state champion.
The 1946 Track Relay Team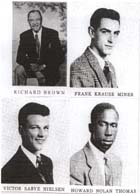 The 1946 track relay team consisted of Richard Brown, Frank Krause Miner, Victor Saybe Nielsen, Howard Thomas, and coach Seth Weekley. At the Penn Relays, the team won the national championship, upsetting much larger and higher favored teams. These four men brought national recognition to Cranford High School and was the 1st Union County team to win the national championship.
Kitty White
Kitty White graduated from Henry Hudson Regional HS in 1973, and from Montclair State University in 1977 and again in 1983. She coached in Cranford for 25 years. White coached varsity girls basketball for 9 years and had a record of 131-76, receiving the UCIAC award for 100 wins. White started the girls recreational basketball program. As JV field hockey coach from 1988-2002, White had 3 county championships and a record of 145-53. As the varsity softball coach, White qualified for the state tournament 12 out of 15 years. 8 of those years, she won Watchung Conference championships. During her time as softball coach from 1977-1992, White had a record of 251-105.
Steve Zulick
Zulick graduated from CHS in 1957, and from the University of Miami in 1963. During his 4 years in high school, Zulick was a 4 varsity letter winner. In football, he was 1st team All Watchung conference twice, and 1st team All Union County. In basketball, Zulick was All Watchung Conference and a member of the state championship in 1957. As a baseball player, Zulick was All Watchung Conference 3 times, Al Union County 2 times, All State 2 times, and PBA Athlete of the year 2 times.