Robert L. Albertson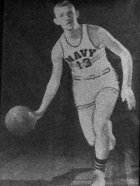 Albertson made his mark in both high school and college basketball. As a 3 year letterman, Albertson led the team in average points per game for all three seasons. He set a record for Union County with 498 points, averaging 21.7 points per game. In 1953 Albertson was selected All Union County First Team, Third Team All State, and First Team All Group II. His senior year, he served as co-captain of the varsity team.
Albertson went on to the U.S. Naval Academy where he played three years of varsity, leading his team in free throw percentage and victories over major opponents such as Duke and Georgetown. Albertson served as team captain and player-coach on nine Air Force Teams, coached basketball at Vienna in Virginia and was the player-coach of the Industrial College of the Armed Forces.
Edward Beadle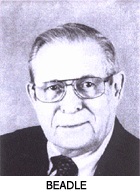 Edward Beadle was a 1944 graduate of Cranford High School who was a four-sport athlete, lettering in football, basketball, baseball, and track. Beadle was a two year varsity letterman in football; receiving All State Honorable Mention in Group II as a running back in the Fall of 1943.
In baseball, he played center field earning All County and All State Honors and Beadle earned Track and Field recognition when he became the 100 yd. dash champion in both the county and state while a senior at CHS.
Guy L. Borges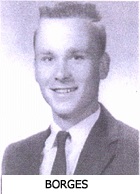 A three sport athlete at CHS, Guy Borges was a top 25 finisher in cross country in the state. He led his basketball team in both assists and steals while achieving All County and All State honors and earned County Honorable Mention recognition in baseball in his senior year. Borges went on to make his mark in all three sports at Montclair State College, receiving honors in all three.
Borges is also known for his commitment to sport and the town of Cranford. Throughout the years, he has officiated in both basketball and softball, worked for the Recreation Department for more than 30 years, coached baseball and softball, and held the position as Director of Men's Softball. He is also an original member of the Hall of Fame Committee.
Dennis Burke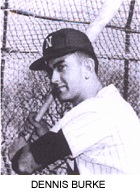 A 1965 graduate, Burke made his mark in baseball in Cranford and at the U.S. Naval Academy. In both his junior and senior years at CHS, Burke received All Watchung and All Union County Honors as a catcher. In 1965, he was named First Team Catcher, All State, All Groups; quite an outstanding feat! Burke went on to be a starting catcher for Navy for 3 years; 1967-1969. It was at this time that Burke caught 17 consecutive runners stealing (a Navy record), while earning a .250 career batting average. He was named to the All ECAC team in 1967.
Anthony Digiovanni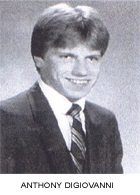 A graduate of CHS in 1994, DiGiovanni made his mark in Track & Field by setting 11 school records for winter and spring track combined, from the short sprint of 60 yards to the mile run. During his senior year at CHS, DiGiovanni earned All State and All American Honors as the third fastest in the nation at the 800 Meters. Other accolades and achievements include: a three-time County Champ, AAU Jr. Olympic Champ, and a Co-Winner of the UCIAC Scholar Athlete Award. DiGiovanni also earned three letters in football and was named to the Honorable Mention All Metro Team in 1992. DiGiovanni went on to Wharton School of Business, and earned All Ivy League status his junior year in Track & Field.
Renee F. Dorfman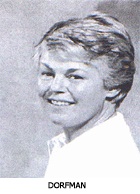 ReneeDorfman has left a legacy at CHS that will be very hard to match by any coach. Her Field Hockey teams have earned 5 Watchung Conference Titles, 11 County Titles, 2 Sectional Titles, 1 State Group I & II Title, and a trip to the State Championship game. Through the years, many team members have received athletic scholarships and played successfully at the college level.
Dorfman has had 28 out of 30 seasons with a winning record. She stands among few in the state having earned her 300th career win in 1998. Her overall coaching record stands at 322 wins, 122 losses, and 65 ties. Dorfman started the field hockey program in Cranford and has been at its helm for the past 30 years
Stuart Duffield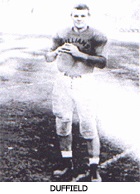 Stuart Duffield starred in both football and basketball at CHS during 1942-1945. He received All State honors as a quarterback and All State honors in basketball. He was elected captain of his high school basketball team and of his college football team. "Bus" Duffield's exploits during his high school career have been described as impressive and dominating. He left high school during his senior year to serve his country until the war ended.
Duffield went on to Williams College, receiving the Belvedere Brooks Award for his play and leadership at that level.
The 1985 Field Hockey Team
The 1985 Field Hockey team was coached by Renee Dorfman & Kitty White. This outstanding team was Watchung Conference Champs, Union County Champs, Group 3 Section II State Champs, State Championship runner-up and ranked # 9 in New Jersey. Their final record stood at 17 - 2 - 4. Sarah Harrington, Lara Wicklem, Kathy Lucash were named to the All Union County First Team; Sonji Jenkins, Nancy Grupe and Kim Lelli to the All Union County Second Team. Lara Wicklem was named to the All State All Groups Third Team and All State Group 3 Second Team along with Kathy Lucash. Sarah Harrington, Lara Wicklem and Kathy Lucash were named to the North Jersey Field Hockey Coaches Association First Team.
Norman M. Hobbie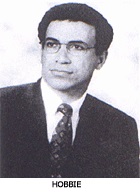 A member of Bill Martin's "Dream Team" in 1973, Norman Hobbie graduated CHS in 1973. He was a varsity starter in basketball from 1971 - 1973, earning All Watchung, All County and All State honors his senior year. He finished his high school career scoring 1,248 points. Hobbie received a four year scholarship to Rider College where he started for all four years. He was named ECAC weekly player of the week, and he set a single game record of 18 assists. Hobbie served as Co-Captain his senior year at Rider.
Glenn A. Owens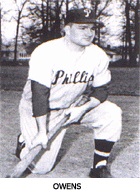 An outstanding hitter and fielder, Owens was the starting shortstop for CHS in 1950-1952. His three year batting average was .300. He received All County and All State Honors during his high school career. Owens was also an outstanding soccer and ice hockey athlete at CHS. He played on the first soccer team in 1949 and was selected to the All State Soccer team. In ice hockey, he was cited as one of the best goalies in the state.
Glenn Owens was offered a baseball scholarship to Ithaca College, but signed with the Philadelphia Phillies as one of the "Bonus Babies". Owens major league career was cut short after suffering an ankle injury
Margaret Zoeller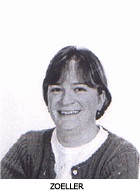 An outstanding two sport athlete while at CHS, Margaret Zoeller was named to the Field Hockey All Union County First Team in 1982 & 1983, All State Group III First Team in 1982 & 1983 and All State All Groups First Team in 1982 and Second Team 1983. In 1982, Zoeller was the first CHS athlete named Star Ledger Athlete of the Week. Also, she played 4 years of Varsity Basketball, and served as Co-Captain of both the Field Hockey and Basketball teams.
Zoeller went on to Widener College to play Field Hockey. She served as Co-Captain and was named the Teams MVP. Zoeller was selected to the MAC All Star Team in 1987 and the Philadelphia Association of Intercollegiate Athletics All Star Team.