She is very funny and makes class less boring and more entertaining
Kai Trombley
Class of 2021

She made me feel welcomed as a freshman and not only taught me about history but also about life.
Chelsie Schweikardt
Class of 2021

She is a very funny teacher who always spreads her positive vibes to the class!
Luke Muhnicky
Class of 2020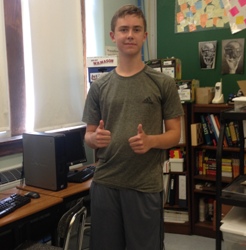 She makes every class period fun and helps out with every test and helps us with the homework if we have questions and she always posts notifications about homework that's due later.
Matthew Maggio
Class of 2021

She helps me understand the classwork.
Carly Stopielo
Class of 2021

I had her freshman year, but I still talk to her because she's awesome.
Dan Gomez
Class of 2018

She is a great person to work with. Her energy and spirit always brings light to the day.
Mr. Vito
Social Studies